A high quality car cover for your Renault Twizy
Do you want to protect your Twizy from rain, snow, dirt and curious people?
TwizCover is what you need! Developed specially for the Renault Twizy!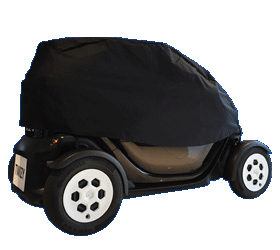 💪 Developed by Twizy owners
...for Twizy owners!
A Twizy is very fun to drive. And when it's parked, you want to give it the best protection possible. Because we couldn't find any high quality, reasonably priced car cover for Twizy's, we decided to develop one ourselves. We teamed up with Verheul, a Dutch company that helds craftsmanship, quality and service of high importance, for more than 75 years! The result is a brilliant, easy-to-use car cover, specially developed for the Renault Twizy!
Why TwizCover?
☂️ All-weather protection
💨 Breathable and anti-corrosion
✔️ Easy to apply
🌷 Handmade in Holland
🏆 Premium quality
🌍 World wide delivery
"Just wanted to say thank you for the cover, it is totally ace! Had some serious rain recently and it is such a joy to be able to pull off the soaking cover and jump into a dry Twizy. Great job!"

⭐⭐⭐⭐⭐

-Jonathan Hyde, Great Britain
Made with ❤️ by Verheul Leathers & Motorcycle Gear, covers since 1921
Vriezenveenseweg 18
7681 DS Vroomshoop
The Netherlands

info@twizcover.com
+31 (0)546 - 64 16 89

Chamber of Commerce: 05025938
VAT number: NL002339158B01

Privacy Policy
Privacy Policy
This is the Privacy Policy of TwizCover (hereinafter referred to as "TwizCover," "we," "us" or "our"), a
company having its address at Vriezenveenseweg 18, 7681 DS Vroomshoop in the Netherlands.

TwizCover is registered with the Dutch Chamber of Commerce under number 05025938. Our Privacy
Policy explains how we collect, use, share and protect information in relation to our website
https://www.twizcover.com (the "Service"). We collect this information when you visit our website with your computer, tablet or mobile phone ("Computer"). We process personal data in a manner that is in accordance with the General Data Protection Regulation (the "GDPR"), the GDPR-based legislation and the other current privacy legislation.

By using the Service, you understand and agree to the collection and use of information in accordance
with this Privacy Policy. Our Privacy Policy applies to all visitors, users, and others who access the
Service ("Users").

What kinds of information do we collect?
Information you provide
We collect the following information you provide us with directly:
a. Your name
b. Your address
c. Your email address
d. Communications between you and TwizCover (e.g., we may send you Service-related emails);

Log file information
We collect information that your browser sends whenever you visit our Service. This log file
information may include information such as your computer's Internet Protocol address, browser type,
browser version, the pages of our Service that you visit, the time and date of your visit, the time spent
on those pages and other statistics.

Analytics services (non-personally identifiable information only)
We use third-party analytics tools to help us measure traffic and usage trends for the Service. These
tools collect information sent by your device or our Service, including the web pages you visit, addons, and other information that assists us in improving the Service. The tools use 'cookies', which are
text files placed on your device, to collect your log information and behavior information in an
anonymous form. We collect and use this analytics information with analytics information from other
Users so that it cannot reasonably be used to identify any particular individual User. With respect to
Google Analytics, although Google Analytics plants a permanent cookie on your web browser to
identify you, the cookie cannot be used by anyone but Google. Google's ability to use and share
information collected by Google Analytics about your visits is restricted by the Google Analytics Terms
of Use and the Google Privacy Policy. You can prevent Google Analytics from recognizing you on
return visits by disabling cookies.

How do we use this information?
We use all of the information we have to help us provide and support our Services. Here is how:
a. remember information so you will not have to re-enter it during your visit or the next time you
visit the Service;
b. provide, improve, test, and monitor the effectiveness of our Service;
c. monitor metrics such as total number of visitors, traffic, and demographic patterns;
d. diagnose or fix technology problems;
e. develop and test new products and features; and

How is this information shared?
We will not rent or sell your information to third parties outside TwizCover.

Change of control
If we sell or otherwise transfer part or the whole of TwizCover or our assets to another organization
(e.g., in the course of a transaction like a merger, acquisition, bankruptcy, dissolution, liquidation),
your information collected through the Service may be among the items sold or transferred. The buyer
or transferee will have to honor the commitments we have made in this Privacy Policy.

Legal requests and preventing harm
We may access, preserve and share your information in response to a legal request (like a search
warrant, court order or subpoena) if we have a good faith belief that the law requires us to do so. We
may also access, preserve and share information when we have a good faith belief it is necessary to:
detect, prevent and address fraud and other illegal activity; to protect ourselves, you and others,
including as part of investigations; and to prevent death or imminent bodily harm. Information we
receive about you may be accessed, processed and retained for an extended period of time when it is
the subject of a legal request or obligation, governmental investigation, or investigations concerning
possible violations of our terms or policies, or otherwise to prevent harm.

Safety and security
TwizCover has taken appropriate technical and organizational measures by using the latest
technologies to protect your information against loss or unlawful processing. We use safeguards to
help keep the information collected through the Service secure. However, TwizCover cannot ensure
the security of any information you transmit to TwizCover or guarantee that information on the Service
may not be accessed, disclosed, altered, or destroyed. We request you to do your part to help us. You
are responsible for controlling access to emails between you and TwizCover, at all times. We are not
responsible for the functionality, privacy, or security measures of any other organization.

International transfer
Your information may be transferred to, and maintained on computers located outside of your state,
province, country or other governmental jurisdiction where the data protection laws may differ than
those from your jurisdiction. If you are located outside the Netherlands and choose to provide
information to us, please note that we transfer the information to the Netherlands. Your consent to this
Privacy Policy followed by your submission of such information represents your agreement to that
transfer.

Retention period
In accordance with the law, TwizCover does not retain data any longer than is required for attaining
the purposes for which they were collected.
Inspection and correction
If you wish to know which of your data TwizCover has recorded or if you wish to amend or remove
data that you cannot amend via your account, please contact TwizCover.

Third-party applications, websites and services
We are not responsible for the practices employed by any applications, websites or services linked to
or from our Service, including the information or content contained within them. Please remember that
when you use a link to go from our Service to another application, website or service, our Privacy
Policy does not apply to those third-party applications, websites or services. Your browsing and
interaction on any third-party application, website or service, including those that have a link on our
Services, are subject to that third party's own rules and policies.
The following third-parties are used to provide the best service as possible:
Crisp: this chat function provides us to talk with potential customers who are interested in ourproduct. More information on their Privacy Policy can be found here: https://crisp.chat/en/privacy/
Mollie: we use this payment provider as an option to order our products. More information on theirPrivacy Policy can be found here: https://www.mollie.com/nl/privacy
PayPal: we use this payment provider as an option to order our products. More information on theirPrivacy Policy can be found here: https://www.paypal.com/us/webapps/mpp/ua/legalhub-full?locale.x=en_US.
Klarna: we use this payment method to order our products. More information on their Privacy Policy can be found here: https://www.klarna.com/international/privacy-policy/.
Children's privacy
Our Service does not address anyone under the age of 13 ("Children"). We do not knowingly collect
personally identifiable information from children under 13. If you are a parent or guardian and you are
aware that your Children has provided us with personal information, please contact us. If we become
aware that we have collected personal information from a child under age 13 without verification of
parental consent, we take steps to remove that information from our servers.

Changes to this privacy policy
We may modify or update our Privacy Policy from time to time. We will notify you of any changes by
posting the new Privacy Policy on this page. You are advised to review this Privacy Policy periodically
for any changes. Changes to this Privacy Policy are effective when they are posted on this page.

How to contact us
If you have any questions about this Privacy Policy of the Service, please send an email to
info@twizcover.com.